Product Description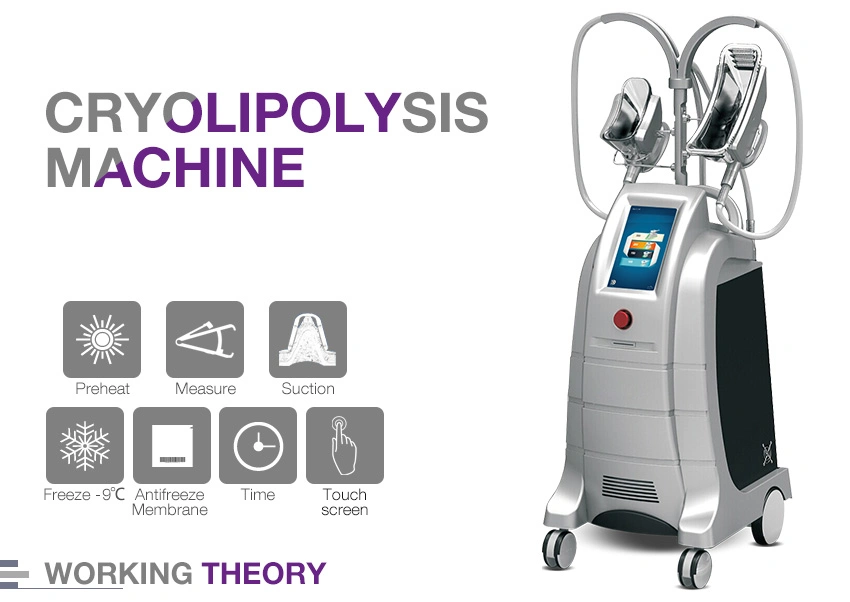 Triglyceride in fats will be converted into solid in particular low temperatures. It uses advanced Freeze fat technology to selectively target fat bulges and eliminate fat cells through a gradual process that does not harm the surrounding tissues, reduce unwanted fat,when fat cells are exposed to precise cooling, they trigger a process of natural removal that gradually reduces the thickness of the fat layer. And the fat cells in the treated area are gently eliminated through the body's normal metabolism process, to eliminate unwanted fat.



Do you worry about your figure? If it is, Now hot sale freeze fat machine for you to become more beautiful and slim. Don't throw away this opportunity for it can make you show off your slim figure after you using out products.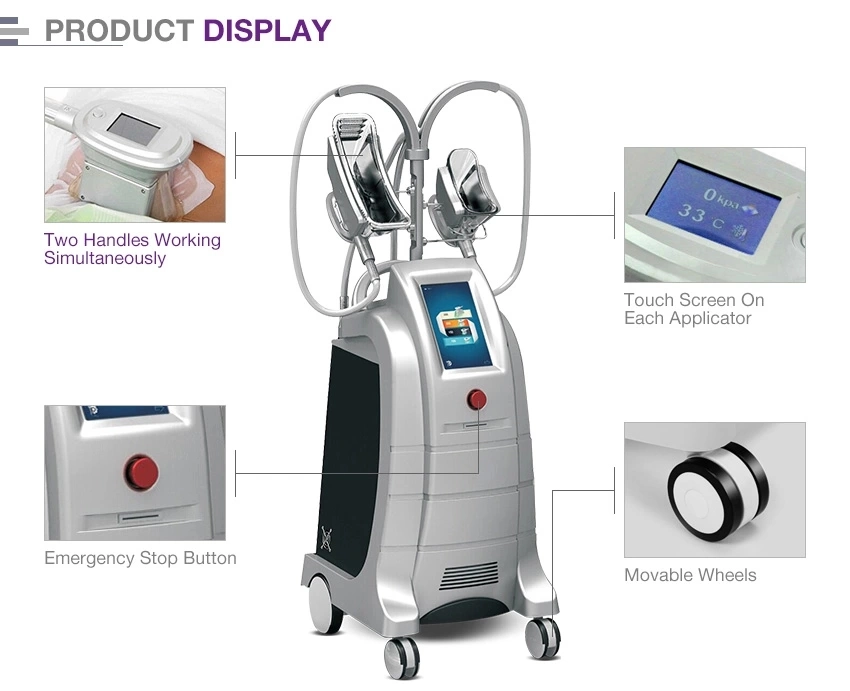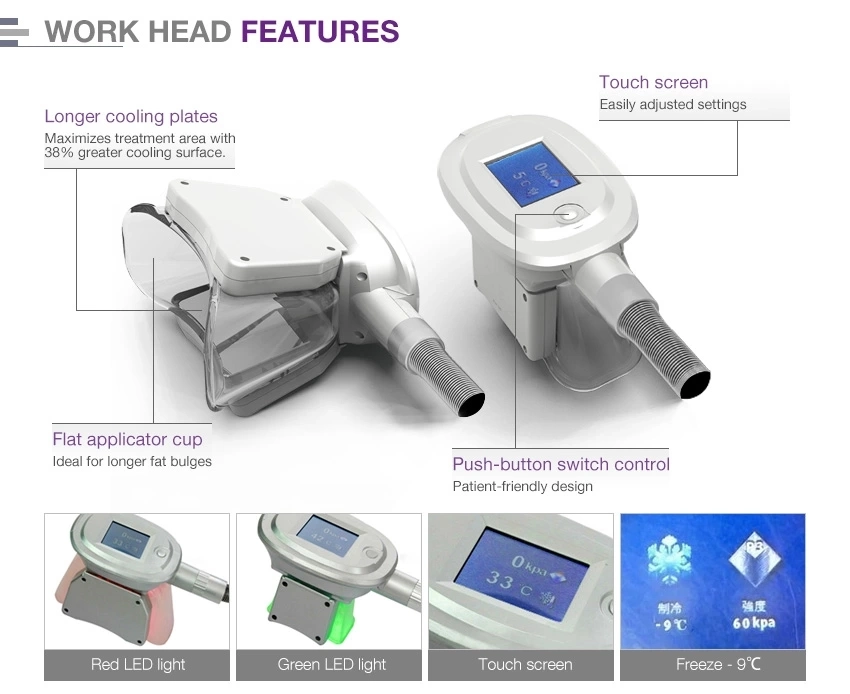 Advantage of cryolipolysis machine:

* Cryolipolysis machine has reheating function, green LED and red LED, and the tailor made antifreeze membranes, all of these will help the clients avoid frostbit during treatment.
* 4 therapy heads with different sizes (100,150, 200,300)
8 Newest size 300 handle can be use for specific client
* Two handles can be used at the same time
* Vacuum pump imported from Germany
* New cooling system for better skin protection
* the lowest treating temperature is up to -9 degree centigrade
* treating temperature can be changed intelligently
* Autometic massage during treatment make the whole process enjoyable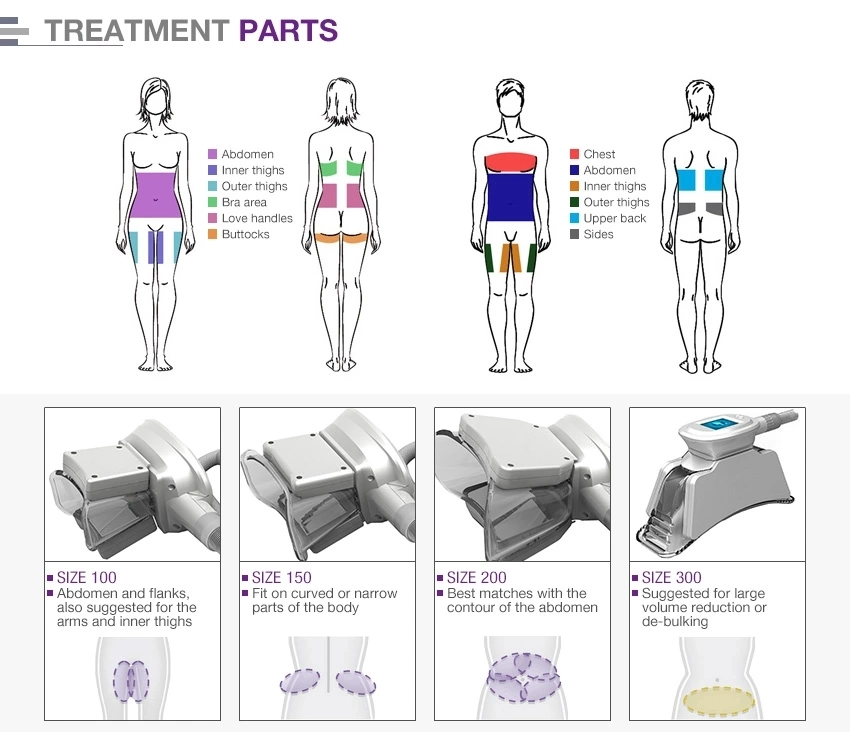 Treatment Area:
Abdomen and flanks or inner thighs
fit on curved or narrow parts od the body
abdomen
Large area fat parts of body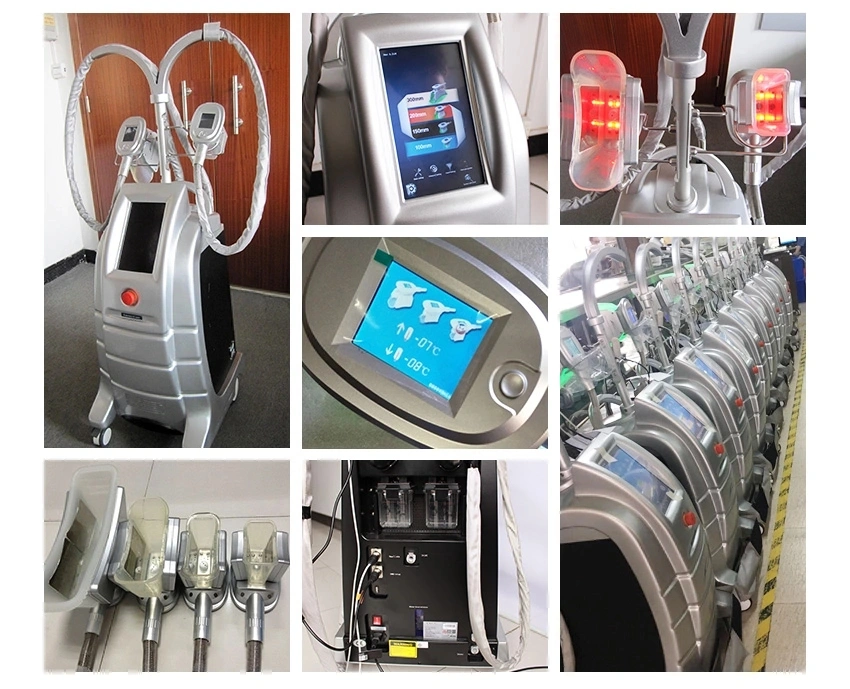 Specification of cryolipolysis machine:
| | |
| --- | --- |
| Model | ETG15-4S |
| Function | Body slimming/ fat reduction |
| Handle piece | 4 different size handles(100,150,200,300) |
| CRYO | -9°~5° |
| Cooling device output pressure | 0-100KPa |
| Vacuum | 10-80Kpa |
| Default time | 0-120min |
| Cooling liquid | pure water |
| Certification | CE |
| OEM & ODM | Avaliable |
| Material | ABS |
F&Q
1. What is criolipolisis fat freezing machine?
criolipolisis is a breakthrough, non-invasive procedure that uses cooling technology to noticeably eliminate fat without surgery. Your doctor will determine if you are a good candidate and work with you to determine the best treatment plan during a one-on-one consultation.
2. What happend during the treatment?
You and your clinican first select the area(s) to be treated. Your clinican will position the device on your body. The device will then draw the bulge up between two cooling panels. The sensation is a firm pull and pressure - enough of a pull to ensure the selected tissue will be cooled most efficiently. An hour or so later, depending on your needs, you're done.
3. What does it feel like?
As the criolipolisis begins during the first 5 minutes, you will feel pressure and warm,after 5 minutes you will feel cold .In the whole process the feeling of discomfort soon dissipates. Many people read, work on their laptop, or even take a nap during their treatment.
4. How long is the treatment?
During your consultation, your doctor will discuss how much time should be allotted based on your individual treatment plan. A typical treatment can last between 45 minutes to one hour.
5. Can i return to normal activities after my treatment
Yes you can. The procedure is completely non-surgical, so typically you can return to normal activities immediately. Some patients experience redness, minor bruising, tingling, numbness or discomfort in the treated area, but this is temporary and will resolve completely. Often times, patients return to work after the session is over.
6. What will my results be ?
Typically, each criolipolisis treatment results in a noticeable reduction of fat in the treated area. After the initial treatment is complete, you can attain further reductions with additional treatments, resulting in even more fat loss. Some patients find that just one treatment fully addresses their goals.
7. When will i see results?
You may start to see changes as quickly as three weeks after your treatment, and will experience the most dramatic results after two months. But your body will still flush out fat cells and continues doing so for up to four to six months after treatment
Company Information