Echinacea Extract
of
Hunan Sunfull Bio-tech Co., Ltd.
Latin Name:
Echinacea Purpurea or Echinacea angustifolia
Family:
Compositae
Part of the Plant Used
: Aerial part
Active Ingredients:
Polyphenol, chicoric acid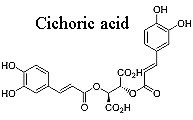 Product Specification
Polyphenols 4%
Cichoric acid 1~4%
Product Introduction
Echinacea is a perennial herb native to the North America. It has tall stems, bears single pink or purple flowers, and has a central cone that is usually purple or brown in color. The large cone is actually a seed head with sharp spines that resemble a stiff comb. Echinacea was used by North American Plains Indians, perhaps more than most other plants, for various herbal remedies. Echinacea was one of the basic antimicrobial herbs of Eclectic medicine in the mid 1800s through the early 1900s and its use was documented for snakebite and anthrax. In the 1930s "Echinacea" became popular in both Europe and America as a herbal medicine. It is a traditional herbal remedy for the symptomatic relief of colds, influenza type infections and similar upper respiratory tract conditions.
Physiological Functions
All Echinacea species have chemical compounds called phenols. The clinical experiments have proved that phenols compound effect can strengthen the immunity, especially at the early stage of catching cold or influenza. It plays wonderful effects on the patients. It can shorten the fit of the respiratory infection, relieving headache and nose inflammation.
Applications
1. Pharmaceutical stuff
2. Functional food and food additive
3. Cosmetics
Company Introduction
HUNAN SUNFULL BIO-TECH Co., Ltd., certified with ISO9001, ISO22000, Kosher, HALAL & HACCP, and specialized in the R&D, production and marketing of high value green tea and botanical extracts for dietary supplement, beverages, cosmetics & pharmaceuticals. We're the global leading manufacturer of green tea EGCG, (-)-Epicatechin, L-theanine, Theaflavins & Tea Polysacchrides. Our key botanical extracts including Aronia extract, Broccoli extract (Sulforaphane), Ginseng extract, Luo han guo extract, Maca extract, Milk thistle extract, etc. And many APIs (Amygdalin, Magnolol, Polydatin, Resveratrol, Sanguinarine, Swertiamarin, etc. ) Our products have been enjoying great popularity in the world markets due to their superior quality and competitive prices. SUNFULL also has becoming the 1st choice of natural ingredientsto many global famous enterprises and their most important strategic partner in China.