Hibiscus has been used to ease indigestion, relieve colds and respiratory trouble, and as an aid to circulation. Hibiscus is commonly made as a tea to ease stomach trouble. Hibiscus is also a natural source of Vitamin C. b). Hibiscus, also known as Red Tea, China Rose, Red Sorrell, Roselle, Jamaica Tea, and Sudanese Tea, is not just another pretty flower. Hibiscus grows in tropical areas throughout the world, and has been used not just as an ornament, but also medicinally for centuries. The part of this plant used medicinally is the flower.
[Product Name] :Hibiscus flower extract
[Plant synonyms] :refused to frost, wood lotus, to hibiscus, wood hibiscus
[Product English]: Cottomrose Hibiscus Extract
[Latin name]: Hibiscus mutabilis L.
[Spot specifications] :10: 1,5: 1,20: 1, polyphenol content of 50%, or as required
[Source of Extraction] Malafood Branch Hibiscus Plant Hibiscus Mutabilis L Flower
[Product traits] light yellow powder, 100% through 80 mesh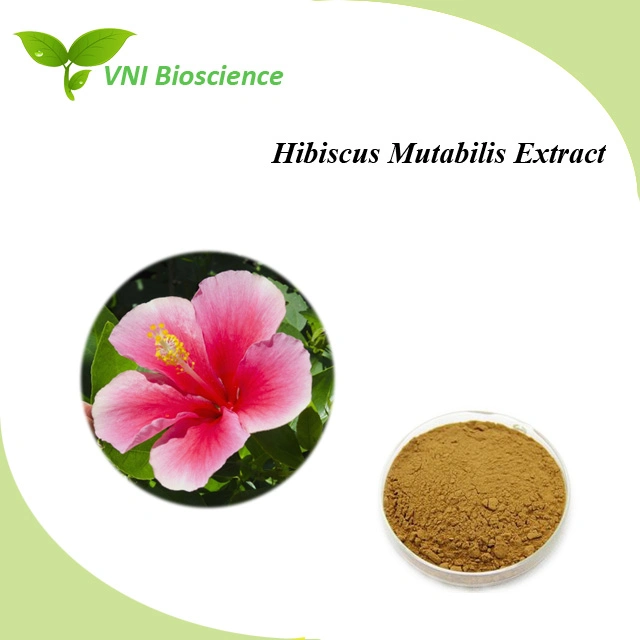 1. Hibiscus extract has antispasmodic effects.
2. Hibiscus extract is a natural nerve tonic.
3. Extract of hibiscus is also used by the cosmetic industry due to its natural Botox like effect.
4. Hibiscus extract is good for skin softening as it works like an emollient.
5. Hibiscus is a good antioxidant.
6. Hibiscus extract firms and tones the skin.
7. The hibiscus extract known as "botox plant" is also a powerful firming agent with a proven calming effect that instantly smoothens the wrinkles giving a person youthful and healthy skin.
8. Hibiscus has been considered as a noninvasive alternative to intensive skin lifting and skin firming procedures like Botox injections and artificial dermal fillers. Unlike from these costly Botox procedures with side effects, hibiscus reduces the need or extends the time between procedures by providing an anti-wrinkle effect on fine lines.
9. According to natural medicine's advice, hibiscus is rich in mucilage and some sugar components that hydrate and protect the skin.
10. Application of hibiscus extract is helpful in treatment of dry, old, dull, and wrinkled skin.